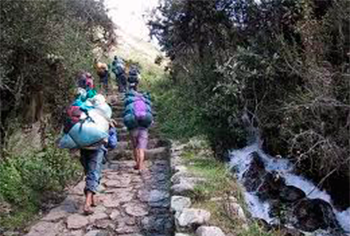 Please contact us to obtain the best rates for this hike.
Important:
With an International Student Card (GREEN ISIC) you get a USD 20.00 discount. You must send a copy of the card by email before getting the Inca Trail ticket. Payments by money order in Western Union – 50% Prepayment. We accept credit cards (VISA) + 8.5%. You can pay the rest of the amount before the starting date of the tour. You can pay the rest of the amount in our office in Cusco.
Dates:
We have groups for the Inca Trail everyday all year long. Besides February, when the Inca Trail is closed. In February you can visit Machu Picchu by train or by foot in one of the old hiking alternatives we have, but it will not be possible to hike in the Inca Trail.
Availability: 500 people a day are allowed in the Inca Trail. This number includes tourists, guides, carriers and cooks. This apply to everyone who want to visit the Inca Trail. To hike the Inca Trail it is essential to book it months in advance. The availability of capacity is the same for every tourist agency. So if you do not have any organization you could get a quota for the Inca Trail.
PROGRAM
1st Day: Cusco-104 Km-Wiñayhuayna-Aguas Calientes:
At 6:00am we will pick you up from the hotel to transfer you to the train station in order to take the train to the 104 km, where the Inca Trail starts short. Then we will visit Chachabamba (2250 m). The hike continues with the view of Wiñayhuayna (always young), for some people, it was the former home of Machu Picchu's ancient priests. In the way, we will visit the fabulous scenery of the Urubamba River. We will make a brief stay in Machu Picchu. By the end of the afternoon we will descend to the Aguas Calientes town. Lodging in selected accommodation.
2nd Day: Aguas Calientes – Machu Picchu – Aguas Calientes – Cusco:
After the breakfast that can also be served in the ascent of the Machu Picchu hotel by foot. We have a guided visit to the main Machu Picchu temples for approx. 2 hours. There is free time to visit the Huayna Picchu. In the afternoon we will descend to the Aguas Calientes town where we have to go back to the Ollanta train and then take the bus to Cusco.
Huayna Picchu is located behind the Machu Picchu Mountain so there you can take a top view of the Inca Citadel. There is a control post in Machu Picchu. In order to ascend to Huayna Picchu you should sign in your name and you will receive a ticket to ascend to the Huayna Picchu. The guide will direct you on how to get the ticket, but you do not need to pay anything extra. Only 400 people per day, divided in two groups are allowed to visit it. Machu Picchu receives more than 1000 visitors a day and generally they do not get a quota to ascend to the Huayna Picchu. In general, the visitors that come from other roads get quotas because they arrive to Machu Picchu earlier. In order to get a better experience it is better to wake up early and see the sunrise.
What's included?
– Arrival transfer from Cusco. Transfer from your hotel to the train station.
– Expedition Train ticket from Cusco to the 104 Km.
– Inca Trail ticket
– Machu Picchu ticket
– Professional guide (English-Spanish)
– 01 night in an Aguas Calientes hotel.
– 01 lunch box/01 breakfast/01 dinner.
– 02 bus tickets. To ascend and descend.
– Expedition Train tickets
– First-aid kit
– Oxygen bottle
Not included
-First day's breakfast / last day's lunch and dinner.
-Guide's tips (optional)
Optional:
-Medium-sized backpack
-Hiking shirts
-Hiking shoes (do not travel with old ones, new ones are better)
-Rain cape or ponchos.
-Appropriate clothing (for cold and warm weather)
-Bottle of water
-Sunblock
-Protective hat
-Sunglasses
-Personal belongings (camera, extra money, etc.)
Important:
The 2d/2n Inca Trail is a pleasant and relaxing trip, to more than 2300 meters.
After the Inca Trail starting date is set it cannot be changed. Also, your place cannot be changed for another person. The deposited money is non-refundable, so please be sure before applying for registration.
You should be in Cusco at least 2 days before the hiking date and go to our Cusco's office, in order to confirm your stay in Cusco and to receive instructions from our guide.
During the trip the program could be modified because of weather, technical or political conditions, otherwise the organized program continues.
Everything you cannot take to the trip, you can leave at the hotel or in our office's storage room.
You do not need a passport to travel to Peru, but we recommend you to bring it.
By contracting this package, you understand the risks of travelling to the Andes countries and trust this company. You also accept that our agency is not responsible for any problem that may happen during the trip, like life loss, harm o any objects or goods loss.
If you have any question about this package, please contact us by phone or email.